Every health indicator in the region is better than the country's average.
Regional authorities are planning a gradual return to normalcy
The European University of the Atlantic is in permanent contact with the health and educational authorities
Cantabria is one of the most successful Spanish provinces facing the health management of the COVID 19 pandemic. This is verified by the data published daily by the province's health authorities on their website (https://www.scsalud.es/coronavirus), which certifies the positive evolution of the disease.
At present, hospital discharges exceed the number of newly infected being interned, with the situation in ICUs becoming stable with plenty of capacity for medical care.
The situation is gradually returning to normal; masks have been distributed to the population and health workers have seen their workload return to normal. Medical care in oncological treatments, surgeries, and transplants have returned to normal as well.
One of the reasons for said good management is the manner in which health authorities anticipated the needs arising from the pandemic. The Marqués de Valdecilla University Hospital, the largest hospital in the region and one of the prominent healthcare centers in Spain, is leading Cantabria's response to the pandemic with great success. Several factors explain this favorable situation, as shown in the graphs published by Antena 3 News.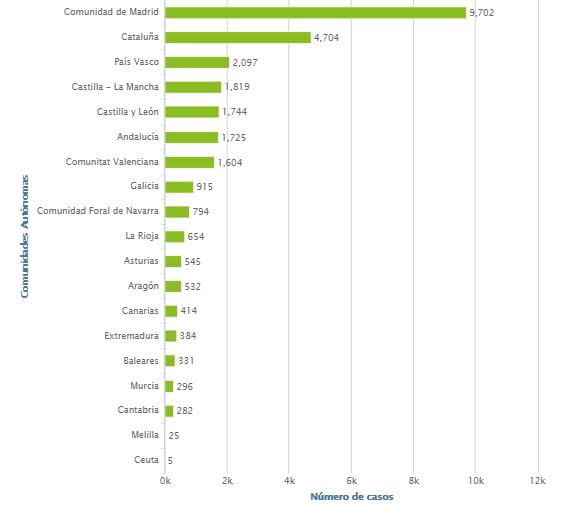 Source: Antena 3 News
There are research centers associated with the Marqués de Valdecilla Hospital that are also providing solutions and collaborating effectively in managing the pandemic. This is the case with IDIVAL and the virtual hospital.
In turn, authorities in Cantabria are working in a coordinated manner to provide a proper response from the social and economic point of view. The objective is to agree on a plan of action with all the political and social forces to offer an agile, coordinated, and focused response to the priorities and singularities of our region.
The regional plan for the progressive return to normality, known as de-escalation, is already being designed. (https://www.eldiariomontanes.es/cantabria/gobierno-insiste-region-20200428221027-nt.html).
In this sense, the Ministry of Education and the Ministry of Universities – in coordination with the Spanish Government – are also managing this extraordinary situation. This is to guarantee that students in Cantabria make the most of the remaining academic year.
The European University of the Atlantic is in continuous contact and coordination with the educational and health authorities to take the most appropriate decisions for the entire educational community. (https://noticias.uneatlantico.es/comunicado/comunicado-oficial-uneatlantico-de-23-abril/