The construction work of the new residence for students from the European University of the Atlantic, located in the Scientific and Technological Park of Cantabria, is progressing quickly and according to the deadlines, it will be ready for the beginning of the next school year 2017-2018.
In order to get some data on the new building, we spoke with the project manager, the architect Carlos Galiano, who has explained to us the capacity, the typology of the accommodation and the services that will be available in the residence.
The residence will have 36 shared apartments of 115 m2 with four single rooms and a shared bathroom in each one. These apartments will have a shared kitchen equipped with a fridge, a glass-ceramic cooktop and a microwave. Bedrooms will have a single bed, a wardrobe, a desk, shelving, a table-lamp and a chair. The common living-dining room will have a sofa, tables, chairs and a TV. There is also the possibility that a family member use an extra bed up to fifteen days. This will be additionally paid.
The residence will also offer 57 shared rooms of between 28 and 45 m2. All of them will have two beds and two desks, an open concept kitchen, as well as a TV. A total of 6 adapted apartments for disabled people will be available. Its size will vary depending on the needs and there will be one or two beds.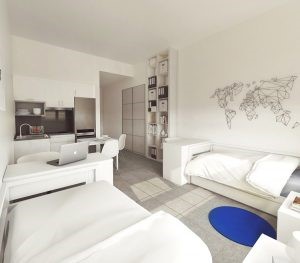 All the residence rooms will have water supply, electricity, gas and heating included in the monthly fees. There will also be wifi in all the facilities of the residence, bed linen and towel for each student, as well as room cleaning and change of linen and towels one day per week. Guests of the residence will be able to use a self-service laundry room in the own facilities.
A complete range of services will facilitate the university life of those staying at the residence of the European University of the Atlantic. Residents will have an extensive library, a restaurant, a dining room and a common room of 130 m2 equipped with TV.
The study and computer rooms will allow students to concentrate on their work, but they will also have a gymnasium of 335 m2 and a common outside space of 400 m2. A car park and a common green area complete the avant-garde facilities, which are comfortable, functional and designed with criteria for energy efficiency to meet the accommodation needs of professors, researchers and students.
"Above all, we have sought to build rooms with the greatest possible amount of natural light – indicates Galiano –so that those staying here have pleasant and kind spaces.