The European University of the Atlantic, as well as its residence, will be the headquarters for the Colombian cycling team Manzana Postobón during the team's European tour, as a result of the agreement signed by the two institutions.
Manzana Postobón is an important Latin American cycling team within the continental professional group, which is the second category in this sport, even though it has the right to participate by invitation in UCI World Tour tests, that is to say, the main global category.
The club belongs to the American International Cyclist Union, where, without no doubt, is the best team of the continent. <b competes in numerous cycling races from Colombia, Argentina or Chile, but on top of that they need to make a European tour taking part in different competitions that take place in Spain, France or Italy. Actually, two years ago they were invited to take part in La Vuelta Ciclista a España.
The agreement between the European University of the Atlantic and Manzana Postobón will be in force between April and June, when the team moves to Cantabria, staying at the university's residence and using the different campus facilities, such as the laboratories for their tests; the sports tracks, to train, or the classrooms for carrying out sessions and technical meetings.
Collaboration extends to the participation of professor Aurelio Corral, who will participate in the team's physical preparation. Corral, who is a professor at the European University of the Atlantic, in the Physical Activity and Sports Sciences, is part of the technical team of the UAE Team Emirates cycling team, that takes part in the World Tour and is managed by technician Joxean Fernández "Matxín".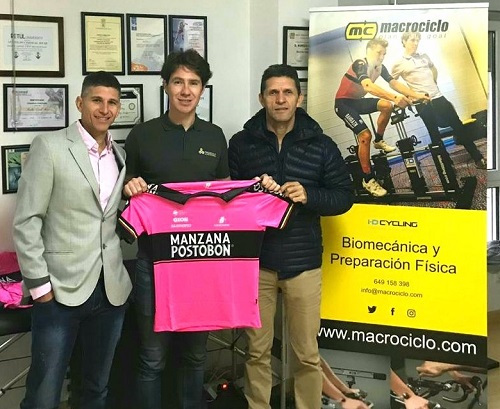 From the Santander headquarters, Manzana Postobón has planned travel to different Spanish cities to take part in tests such as Vuelta a Aragón, la Vuelta a Asturias, el Gran Premio Miguel Induráin, la Vuelta a Castilla y León, la Vuelta a La Rioja and other competitions in France and Italy.
Manzana Postobón id a brand t has been associ with the history of world cycling. In the 80s and 90s it gain a great notoriety in diverse European roads, with names such as Reynel Montoya, Pablo Wilches, Álvaro Mejía, Óscar de J. Vargas o Lucho Herrera, among others. A group of young talents has followed suit and is currently working so that the club returns to a high position at a national and international level.