Santander, March 4, 2015
A group of students from the Business Administration and Management and Psychology degrees, at European University of the Atlantic, is taking part this week in a pilot test from the European project Diagnostics for Enterprise Soft Skills (DAISS) led by the consortium Apricot Training Management, with participants from UK, Italy, Romania, Bulgaria, Cyprus and Spain.
This project—born as a response to the increasing demand for entrepreneurial workers with initiative in their job—seeks to improve the job perspectives of adults and young people entering the job market, by developing their social skills in the business environment.
The workshops that have been taking place at European University of the Atlantic since yesterday focus on discovering the main qualities, work styles and any skills that stand out from the students in the sample.
The tool Self Awareness is used to perform this diagnosis. This tool is based on a well-known psychometric system of behavioral tests in the workplace (DCSC), which includes group dynamics or personality tests, among others. This analysis allows classifying participants according to their skills, and offers a map of the roles and/or workstyles that better suit each profile.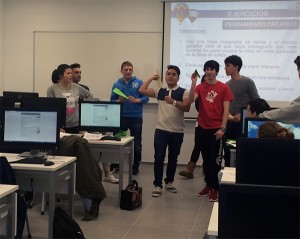 Data obtained from the tests performed at UNEATLANTICO will be added to the reports presented during the first phase of the pilot test, which took place in October and November 2014 in different European countries. However, and besides the value that the sample collected at UNEATLANTICO adds to the project, it is important to highlight the motivation that this experience poses to students themselves.
European University of the Atlantic follows a learning methodology that is particularly focused on teaching key skills, such as social or group work skills. In this sense, the activities that are taking place these days in the context of the European project contribute to complement and improve the dynamics that already take place at UNEATLANTICO every day.
Thus, after this week's workshops, students will be more aware of their own social skills, so they will be able to strengthen their strong points and counteract their weak points.
See related news: http://www.europapress.es/cantabria/cantabria-social-00674/noticia-cantabria-alumnos-uneatlantico-participan-semana-proyecto-europeo-habilidades-sociales-emprendimiento-20150304131508.html