The academic director of the Communication degrees in UNEATLANTICO is the promoter of UneRadio  
The academic director of the degrees in Journalism, Advertising and Public Relations and Audiovisual Communication in the European University of the Atlantic, Patricia Martínez attended this summer the Spanish and Latin American radios workshop, which is enclosed within the El Escorial Summer Courses
Both in Spain and in Latin America, university radios have become a vehicle for the participation of researchers, students and social sectors that do not usually find a place in conventional radios. Above all, these radios represent an entertaining environment and are useful for that future professionals of this sector start putting their knowledge into practice.
In the case of UNEATLANTICO, the responsible for promoting a radio was Patricia Martínez. UneRadio began its activity this year and is already a member of the Spain University Radios Association (ARU) As its academic director explained before, the UneRadio project is a young spirit proposal which is promoted by the students of the Communication degrees.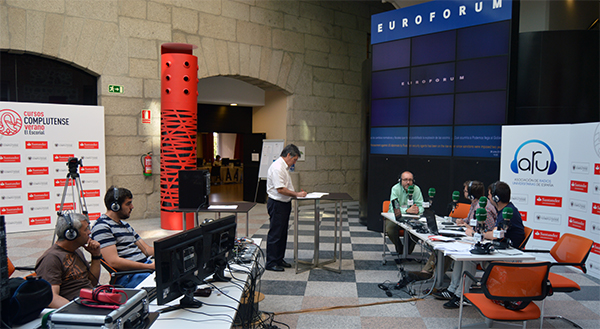 Nonetheless, she said "the idea is  to expand the schedule  so that  students of other degrees can get involved, either participating in the production or suggesting new contents".
In the meeting of Spanish and Latin American university radios that was held in El Esocrial, representatives of the Spain University Radios Association (ARU) attended, as well as delegates of the University Radios from Latin America and the Caribbean (RRULAC) and of other radios from different Latin America countries.
All of them took advantage of the meeting to exchange proposals and close collaboration agreements between the different associations. In addition to that, the course included live boradcast for the Radio 3 program Tres en la carretera, and the book La radio universitaria, from author Mario Giorgi was presented.
Related links: https://noticias.uneatlantico.es/aru/