The final exams for the first term of the 2020-2021 academic year are here. Students of the European University of the Atlantic now have two weeks in which they will be evaluated on the knowledge they acquired during the first term.
These exams are also marked by a series of pandemic prevention protocols aimed at avoiding contagion, as was the case with the final exams of the last 2019-2020 academic year that took place in July.
Mariacarla Martí, a doctor in Psychology, and Laura García, doctor and academic director of the Bilingual Primary Education degree, discussed this topic yesterday in the Sonora program presented by the University's Communications Office in UNEATLANTICO Radio, hosted by Alejandro Sanz and Clara Arnáiz. Two students from the Audiovisual Communications degree program, Miriam San José (3rd year) and Jorge Domínguez (1st year) also participated in the debate.
Mariacarla Martí explained that "from the point of view of educational psychology, there is increasing talk that exams should have a more reflective character, so that they acquire importance as a true evaluative measure of the learning process. This grade should not only reflect the rote memorization of content, but the ability to use it as a tool for professional practice, which is the essence of a university education".
For her part, Laura García pointed out that "we cannot pretend to do in the last week what we have not done during the rest of the program". The head of the Bilingual Primary Education degree asked the students "to work hard, but also relax, since nervousness hinders learning and serves no purpose. They must reflect and try not only to memorize but to understand what they learned."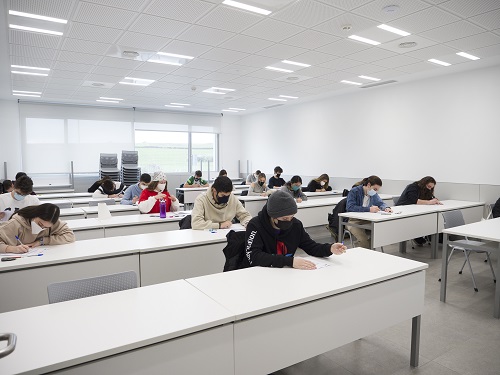 Student Jorge Domínguez highlighted the closeness between professors and students at UNEATLANTICO because "there is more distance in Mexico, and here they are closer, the professors are always willing to offer feedback on your work and help you improve academically".
Miriam San José indicated that "attitude is more important than number of hours when in comes to studying. If you don't have the day, it doesn't matter how many hours you study. The important thing is that you make a serious decision: I'm going to study for two hours straight and really do it."
You can listen to the entire program here